May was the month of AI for the stock market, though artificial intelligence-related stocks had been gaining momentum since the fall release of OpenAI's Chat-GPT3. This groundbreaking technology has sparked enthusiasm among investors, and its potential impact on companies and the economy cannot be ignored.
Semiconductor designer Nvidia's May 24th earnings announcement and guidance stoked investors' excitement showing a surge in spending on advanced AI chips, far ahead of analysts' expectations. This news propelled Nvidia's market capitalization to $1 trillion, leading the way for a 16% gain in the U.S. semiconductor index (SOXX) for the month. While the AI space continues to capture the attention of investors, it is important to exercise caution and be mindful of what is already "priced in" to AI-related stocks. Revenue or industry growth does not necessarily equate to investment returns. To illustrate, we can look to the advent of the internet, which offered tremendous potential and lofty expectations for the companies involved.
During the dot-com boom of the late 1990s-early 2000s, Cisco and Microsoft were two such companies. Both experienced tremendous growth over the following decade, with their revenues roughly tripling. However, investors in these stocks faced a decade of negative returns, including dividend reinvestment. The expectations surrounding Cisco and Microsoft during the 1999/2000 period were so extreme that the subsequent revenue growth was viewed as a major disappointment. The price-to-sales chart below illustrates the weight of these expectations. A higher price-to-sales ratio indicates greater expectations for future growth, all else equal. At its peak, Cisco investors were willing to pay nearly $37 for every $1 in company sales, and Microsoft investors paid $29 per $1 in sales. This is sales NOT profits or cash flow.
As investors evaluate AI-related stocks today, it is important to consider the expectations placed upon them and carefully consider the potential for these stocks to meet or exceed said expectations. While AI is undoubtedly a revolutionary technology with immense potential, history has shown us that even the most promising advancements can face challenges in meeting investor expectations.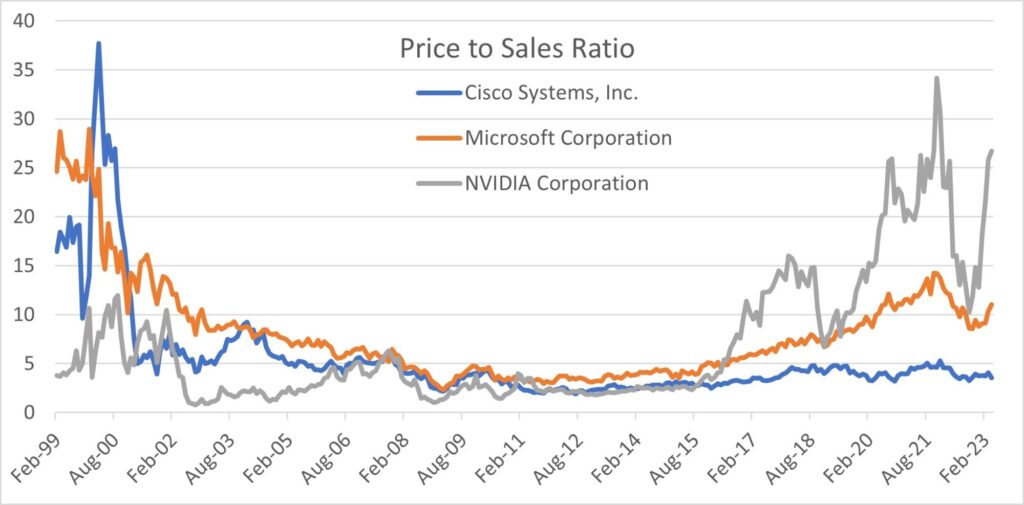 -Jared J. Ruxer, CFA, MS
Every journey begins with the first step. We're ready to join yours.